An alternative for cat trees: no cat trees

Wir haben uns ein paar einfache Fragen gestellt: Wozu ist der Kratzbaum eigentlich da? Was brauchen unsere liebsten Haustiere, um sich wirklich bei uns Zuhause wohl zu fühlen? Wie kann man einer Wohnungskatze mehr Bewegungsfreiheit bieten? Und wie kann man den Spiel- und Entdeckerinstinkt auch Zuhause wecken? Im Grunde sind die Antworten sehr einfach - unsere Katzen lieben es zu klettern, sich ausruhen zu können, entspannt und in "Sicherheit" zu schlafen, mit Überblick zu wachen und natürlich zu kratzen. Wenn wir es also schaffen, diese Grundbedürfnisse einer jeden Katze zu stillen, haben wir viel erreicht, und den Wohlfühlfaktor unserer Mitbewohner erheblich gesteigert.
Unsere fertig für Sie zusammengestellten Kratzbaum-Alternative Sets
Is there an alternative for cat trees?
Immer wieder treffen wir Katzenbesitzer und hören von Kunden, die uns erzählen, dass ihre Katze den Kratzbaum verschmäht. Wieder andere Kunden haben den Kratzbaum in ihrem Wohnzimmer einfach satt. Entweder weil er zu groß ist und das Wohnzimmer in Beschlag nimmt. Oder weil er schnell aus dem Leim geht und sich auflöst. Der Weg zum Wertstoffhof ist beschwerlich und so steht ein häßlicher Baum im Haus und verschandelt das Wohnambiente. Für eine Vielzahl an Menschen ist vor allem die Optik des klassischen Kratzbaumes nicht mehr zeitgemäß und Katzenbesitzer wünschen sich eine Alternative.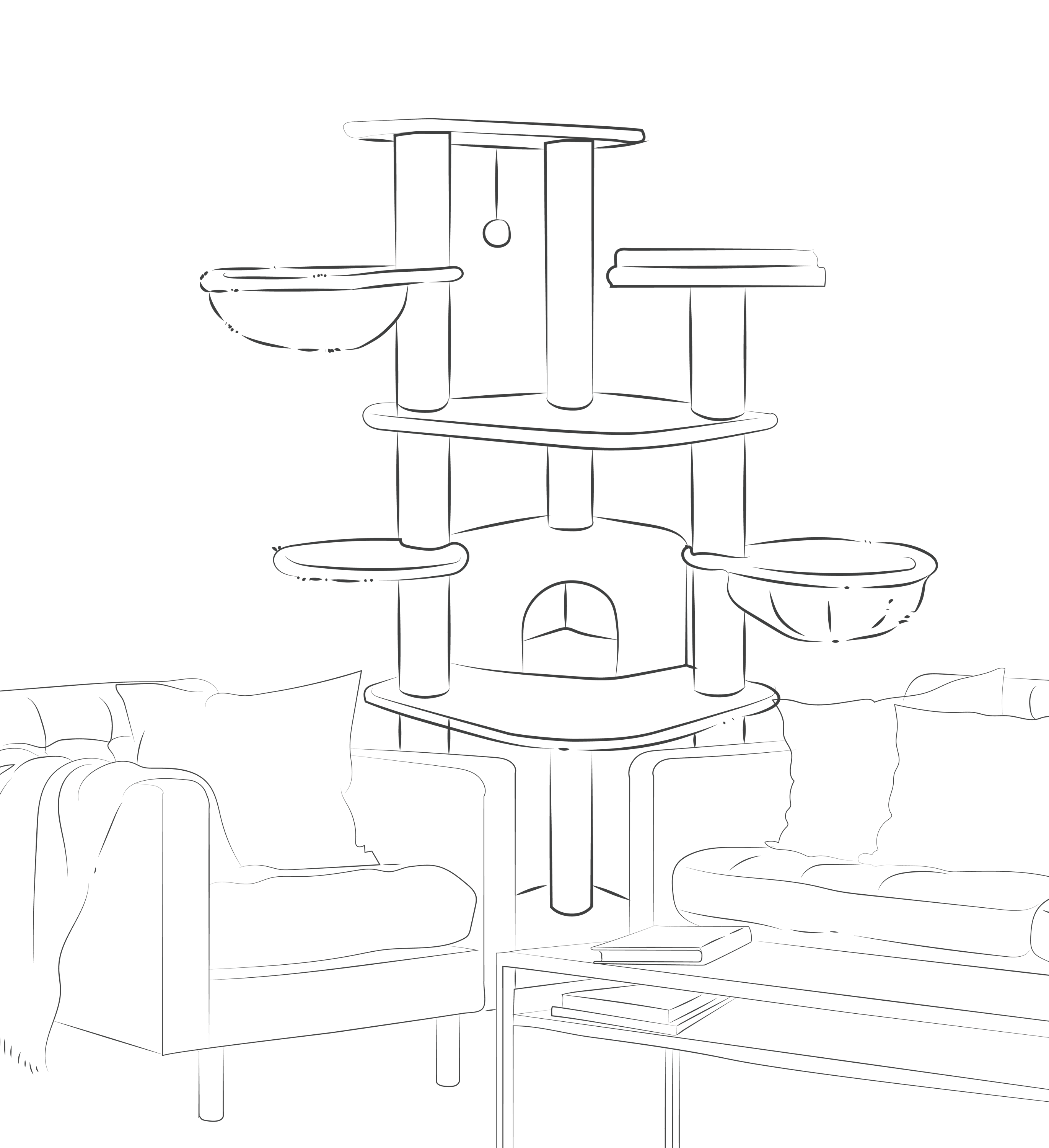 Can you give up a cat tree?
Because as we all know – it is THE number one piece of furniture for house cats, and it is certainly also the type of furniture that stands out the most in our living environment. Why does a cat tree actually have to be an all-rounder? Why does this post have to be massive, monstrous, and fully loaded with scratching elements, lounging surfaces and caves? We have taken all of this to heart and have put a lot of thought into this topic.
What does a cat tree alternative have to include?

1. Satisfy your cat's basic needs
We have created individual items to satisfy each cat's basic needs:

2. Individually combinable
Jedes unserer Produkte ist perfekt auf das jeweilige Bedürfnis und den Anspruch der Katze abgestimmt und zusammen mit Tierärzten und Tierpflegern entwickelt worden.

Unsere Produkte lassen sich individuell für Ihre Katze zusammenstellen und kombinieren – und bieten gleichzeitig die identischen Funktionen wie ein konventioneller Kratzbaum.
Die Formensprache haben wir dabei auf ein Minimum reduziert. Somit treten unsere Katzenmöbel optisch in den Hintergrund und fügen sich nahtlos in jedes Wohnambiente ein.
3. Creating a playground on your walls
When developing our products, we have decided to increasingly focus on mounting the furniture on the walls. Here is why:
Wände sind bisher oft ungenutzte Fläche. Dabei eignen sie sich perfekt zum klettern und dazu geschützte Aus- und Übersicht zu schaffen.


Our space-saving, wall-mounted furniture does not require any floor space and is easy to keep clean.

You open up new spaces for your cat, which increases its freedom of movement considerably and raises your house cat's quality of life.
Stellen Sie sich mit unseren Möbeln Ihren individuellen Kratzbaum zusammen.
You know best what your cat needs. You also know what fits into your home. There are no limitations to you individual creativity. You can always grow and expand your cat tree alternative; this system concept is in our DNA. LucyBalu will stay true to the basic color options white and anthracite, and we will continue to develop more beautiful products. This means that in the future you will be able to continue to expand your cats' living environment with our cat furniture. And in case something ever breaks, you can easily order a replacement.
We are also happy to advise you on the phone +49 (0)89-121 29 420